The program offers:
Free transport

Free accommodation

Books and other study material

No tuition fee is charged

Stipend of Rs. 5000 for living

Laptop and cash prize for winner of Book Review Competition and Mathematics Olympiad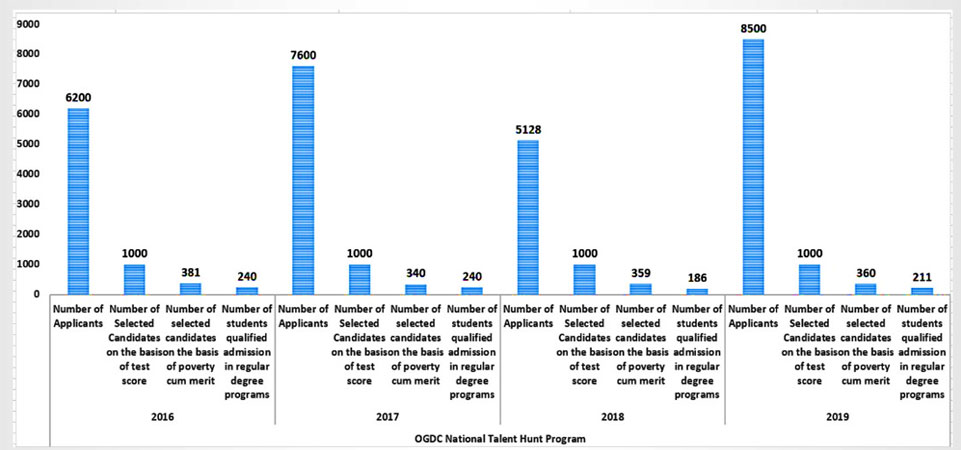 More than 6000 candidates applied for the program in the year 2016 from all parts of the country, 381 candidates were selected on the basis of merit cum poverty in zero semester. In the year 2017, second phase of the program was launched. During second phase, more than 7000 students applied, about 400 students were offered admission on the basis of test scores and poverty. In 2018 for third batch 309 students joined the program. In the year 2019, the program attracted more than 8000 applications country wide, 360 were offered admission in zero semester, 308 joined the program
In total, around 1744 students have taken benefit from this fully funded scholarship program.
This year, its 5th phase of OGDC National Talent Hunt Program, expected to be announced during December 2020, subject to approval from the board of Sukkur IBA University and OGDCL Pakistan. During previous four phases, more than 1700 students were admitted in zero semester whereas around 877 qualified for the admission at Sukkur IBA University regular degree programs. All these students have been awarded fully funded scholarship collaboratively by Sukkur IBA University and OGDCL.